JOURNEYS TO THE COUNTRYSIDE. VOLUME FIVE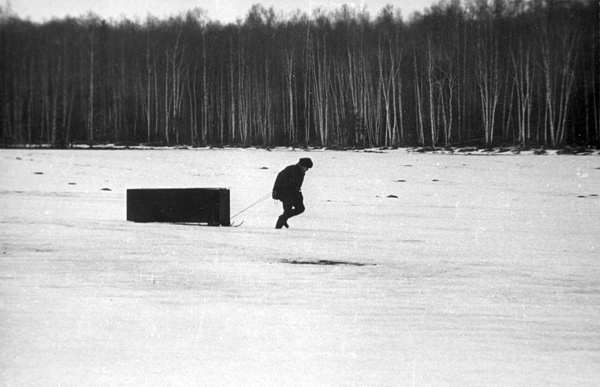 53. FOR I. MAKAREVICH (Meteorite music)
Prior to Makarevich's arrival a black box (202x67x55 cm) with a circular hole on its upper side (21 cm in diameter) was installed at the action's scene. The box's base with attached skis was covered with snow. Inside the box there was a burning kerosene stove with a whistling kettle heating up on it. 10 meters away from the box there was an armchair.
After approaching the scene Makarevich comforted himself in the armchair (see instruction #1 in "Documentation" section). 20 minutes later the kettle began to boil, the whistle sounded and clouds of steam poured in from the hole in the box's upper side.
15 minutes later the water in the kettle boiled away, and the whistling stopped. Makarevich approached the box (see instruction #2) and opened it (see instruction #3). Then he discovered a rope attached to the box's front side and pulled it away from the scene.
In the course of the whole action a tape recorder hidded some 15-20 away from Makarevich's position (behind his back) produced the sound of a dog's barking.
Before the action's start a large lump of black paper with pieces of silver and golden tinfoil glued onto it was strung up between the trees on the field's side, invisible from the action's scene.
Kievy gorky,
18th March, 1989.
A. Monastyrski, G. Kizewalter, E. Elagina, S. Romashko, N. Panitkov, S. Haensgen.