ANDREY MONASTYRSKI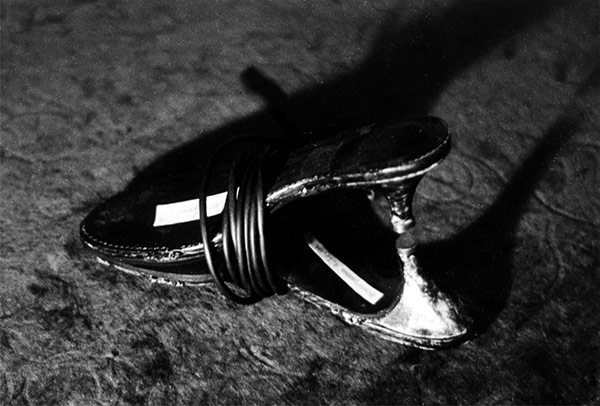 SLIPPERS (Studio)
(Object and sound-track, 40 minutes)
The object consists of a pair of ladies' slippers arranged sole to sole and joined together at the toes with two nails. The straps have been removed and the heels have iron heeltaps. The slippers have been painted black. The nails firmly hold together only the toes of the slippers; the heels are not connected to one another and the distance between them is 1.5 cm. The slippers are wrapped in the middle with a black electrical cord, 1 m in length. There are four text labels on the slippers. Two of these labels are affixed to the outside; the note on the upper slipper reads "A.M. Studio," while the other note on the lower slipper reads "Sound-track 4.12.84." The other two labels are fixed to the soles, which are pressed against one another. They have been attached so that it is only possible to see and read them by pulling apart the soles. On the one sole is a monosyllabic label (prefix) that reads "POD" [=under], while on the other sole is the disyllabic label (pronoun) "NIMI" [=them]. These words, dividing the label into two parts, read with two meanings: the imperative "Podnimi" [=pick it up] and a phrase indicating place, namely "Pod nimi" [under them].
When the sound-track "Studio" was recorded, the object "Slippers" was used both as a score and as a percussion instrument (through the sound of the metal heeltaps striking against one another). While listening to the sound-track, the object "Slippers" should likewise be placed before the listener-spectator (both as a score and for possible manipulations of the slippers themselves).
The sound-track "Studio" consists of a multi-layered overlapping of text-fragments onto various parts of a previously recorded tape of music in the style of Rock in Opposition (an album from 1984 by an American band). The text is largely dedicated to the technical and compositional problems related to the act of erasing the primary musical layer of this recording. The overlapping was carried out with the aim of preserving the energetic and aesthetic balance between the spoken and the musical fragments.
At certain points in the sound-track, one can hear the sound of "Slippers'" heels tapping against one another; short commentaries on the music and the act of "erasing" itself; as well as the acoustic conditions of the action with the object "Slippers" (the unwrapping of the electric cord and the sound of the slippers falling to the ground).
December 1984