JOURNEYS TO THE COUNTRYSIDE. VOLUME EIGHT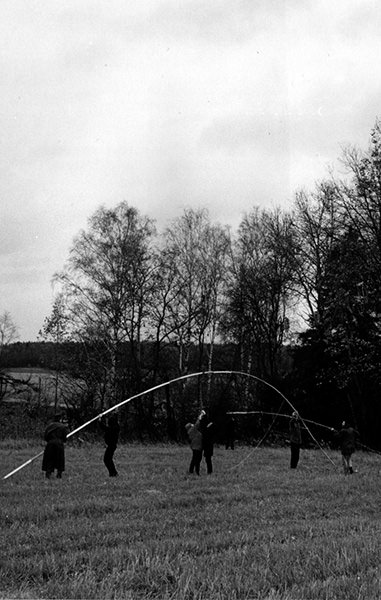 100.
VILLAGES
On the edge of a field, rope was used to hang 4 frames with images of golden hares under glass. Then, using nails and tape, 11 wooden canes sticks (4,5x1,8 cm; 2m length each) were connected together to create one pole of 17m 22cm length.
22 labels with the names of villages in the Moscow region and the number of inhabitants residing there in early 1980's (information gained from scanning a map from the 1980s), were attached to all 11 sections of the pole. In between the labels were attached golden wings (railroad symbol).
In an attempt to raise the pole – it arched, and pieces from the edges broke off. In the second attempt to raise the now shortened pole - the same thing happened. Only after the pole had lost several pieces, becoming about 8 m long, was the attempt to raise it successful. We fixed the pole to the tree, next to the section of rope with the golden hares attached to it.
The segments with labels were cut from the broken pieces and handed out to participants as a document. The following list of village names were on these sections, (population indicated in brackets): Abramtcevo (0,96), Andreevskie vyselki (0,27), Dedovo-Talyzino (0,03), Dobrynino (0,10), Novuj (0,81), Pesterugino (0,02), Repishe (0,34), Staronikolskoe (0,01), Tyazhino (0,14), Chistoe Severnoe (0,2), Shubinka (0,01).
The remainder of the pole, (8 m length), was attached vertically to the tree from which the golden hares were suspended. On this section of pole were the remaining labels with the following names of villages: Barynino (0,17), Bolshie Pastbisha (0), Vasil'evskoe (0,34), Danilovo (0,42), Krukovo (0,26), Legkovo (0,17), Olino (0,01), Podvyaznovo (0,07), Podporino (0,04), Staraya (0,01), Strunino (19,3).
Moscow region, Yaroslavskoe roadway, 58 km, in the field across from Vozdvizhenskoe.
11 October 2003
A. Monastyrski, N. Panitkov, E. Elagina, S. Romashko, I. Makarevich, M. Konstantinova, D. Novgorodova, S. Sitar, U.Ovchinnikova.