JOURNEYS TO THE COUNTRYSIDE. VOLUME ONE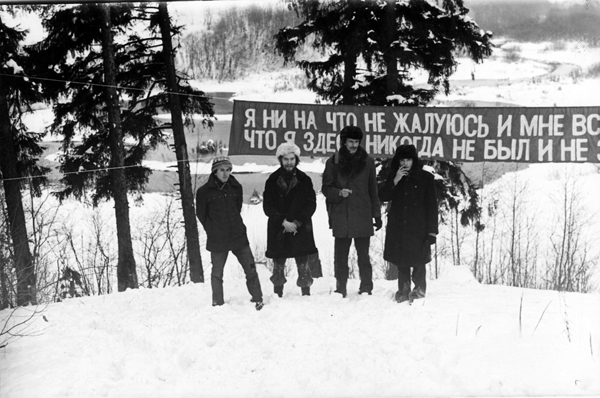 4. SLOGAN–1977
A piece of red cloth (1 x 10m) was hung between two treetops on a hill. Inscription in white stenciled letters said: "I DO NOT COMPLAIN ABOUT ANYTHING AND I ALMOST LIKE IT HERE, ALTHOUGH I HAVE NEVER BEEN HERE BEFORE AND KNOW NOTHING ABOUT THIS PLACE". (a quote from A. Monastyrski's book "Nothing happens").
Moscow region, Leningradskaya railway line, Firsanovka station.
26th January, 1977
A. Monastyrski, V. Miturich-Khlebnikova, N. Alexeev, G. Kizevalter, N. Panitkov, M. K., A. Abramov.