JOURNEYS TO THE COUNTRYSIDE. VOLUME TWO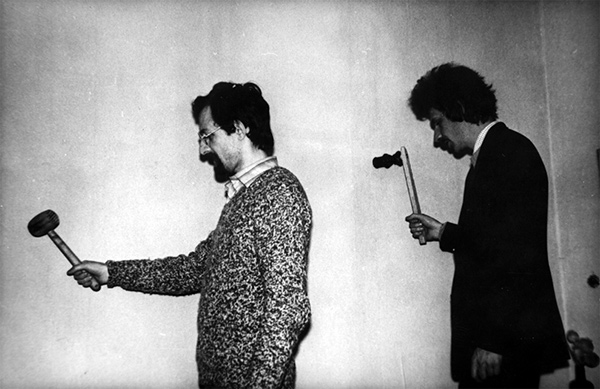 17.

PLAYBACK



The action took place in N. Alexeev's apartment. The invited guests sat facing an empty gray wall with two small cassette recorders standing on speakers next to it. For 10 minutes' time these recorders were producing noises of kicks and knocks on the wall. Upon careful inspection one could notice two dents in the wall behind the recorders, produced by hammering on it in the course of recording (it was made on the day before the action). When two these soundtracks came to an end, the third stereophonic recorder was switched on (it was standing next to the opposite wall, hidden from sight by a cloth). It was plugged to speakers under the two smaller recorders. Its soundtrack consisted of noises produced by guests – knocks on the door, clatter, talks (recorded 15 minutes before the action's start) – and the two smaller recorders in the course of action (see appendix for detailed plan).
Moscow,
1st March, 1981.
A. Monastyrski, S. Romashko, N. Panitkov, N. Alexeev, G. Kizevalter, I. Makarevich, E. Elagina.
V. Skersis, S. Mironenko, V. Mironenko, Yu. Albert, V. Zakharov, N. Zanegina, D. Prigov, V. Kara-murza, N. Kozlov, I.Yurno, I. Pivovarova, P. Pepperstein.