JOURNEYS TO THE COUNTRYSIDE. VOLUME TWELVE
133. TRANSLATION – 5 (Polish Version)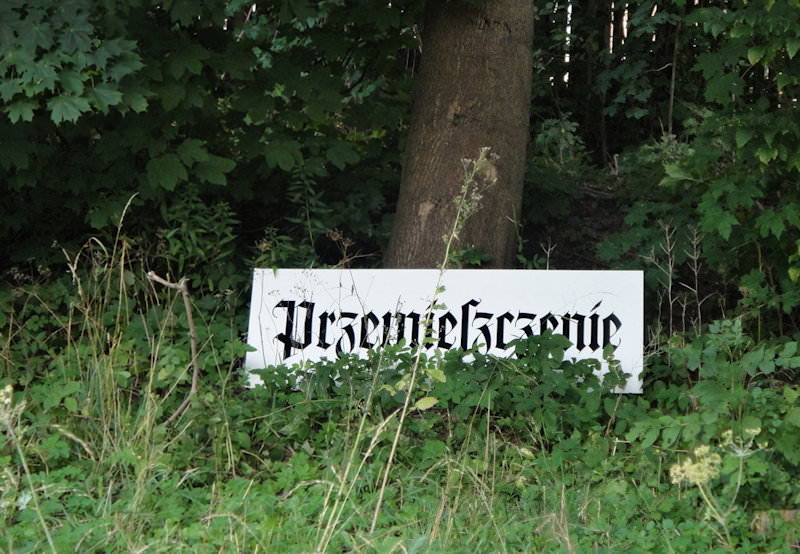 TRANSLATION – 5 (Polish Version)
A metal sign 150 cm in length, consisting of black Gothic German letters on a white field (font: Klingspor) with the word Przemieszczenie was prepared at the Druckcenter in advance of the action. This sign was transported by car to Poland, to the town of Resko (Regenwalde in German), where the mother of S. Hänsgen was born and lived before the war. The place where the house stood is now an empty lot. When entering the lot from the street, there are old sheds that run along the sides of the lot, and on the far side of the lot there are trees growing and beyond these, the tracks of former German railroad tracks. The empty lot is bisected by a footpath used to cut through to shorten the way.
On the far side of the lot, M. Hüttel and Yu. Leiderman installed the signboard by leaning it against one of the trees. At this point, S. Hänsgen removed from the car and put on a black jacket on whose back was attached a photograph of the place in the Estonian village of Leesi where one can see the roof of a large abandoned house, strange in architecture and size for the small village (its purpose has not been determined). On the inner side of the jacket, on the back side was attached a reproduction of the painting The Vladimirka Road by I. Levitan.
Moving from the street along the sheds and toward the railroad tracks, SH turned left, walked past the signboard and returned along the footpath to the street. Having arrived via the street at a sport field (with perimeter of 100-150 meters) where children were playing, SH removed her jacket and hung it on a hanger on the webbing of the fence guarding the sport field with the Levitan reproduction facing the side of the street.
(During the action, Yu. Leiderman read the 1964 poem "Lieutenant Ernst Neizvestnyi" by A. Voznesensky, holding in his hands a guitar but not playing it.)
21 August 2013
Poland, Resko
S. Hänsgen, M. Hüttel, Yu. Leiderman, A. Monastyrski
translated by Yelena Kalinsky