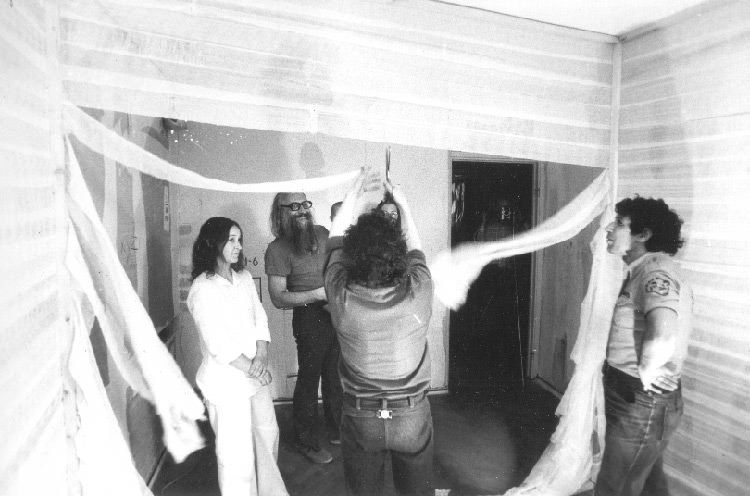 The Project "Exploration into the Essence of Art as applied to Life and to Art"

WHITE CUBE
Performance/Installation
1980, July
Location: Artists' studio.
Material: 12 wooden bars 250 cm long each, screws & washers,medical bandage (300 m), pieces of chalk and coal, and paper clips.
Illumination: lamps in the corners of the room and inside the Cube.
Duration: several hours.
Performance was made according to the Project of the Ideal Space (1979)
The Cube with sides of 250 cm was constructed in the room of 530 х 300 х 250 cm. The participants of the action wrapped the cube's structure in bandage. The Cube sides faced four cardinal points of the compass. Since two sides of the Cube were fixed to the opposing walls, the Cube divided the participants into two groups. In order to reunite the participants the Cube had to be destroyed.
Problems and conditions of the experiment: 1. Communal task: to create a new and absolutely non utilitarian space-object, i.e. the White Cube. 2. The internal space of the Cube covered by bandages is inaccessible to the participants. 3. Contemplation of the White Cube. 4. Destruction of the Cube (by cutting the bandages). 5. "Reducing of Space". The surface of the Cube transforms into the Globe. 6. A Mandalaa