MY GOD, WHAT DOES IT ALL MEAN?
Installation
Exhibition «TOTART. N.Abalakova and A.Zhigalov. 1960-1990 (Glasgow-Moscow)». "Sadovniky"gallery. Moscow.
Material: A ladder, wrapped with black paper, a photo of izba interior 150x150 (9 fragments 50x60), "Gold structure" (A.Zhigalov/ Canvass, gold paint, 150x150), an iron grid 200x200, a bucket, egg's shells (an object "Russian Rose"), letters, a mirror, salt, sand, earth, a rope.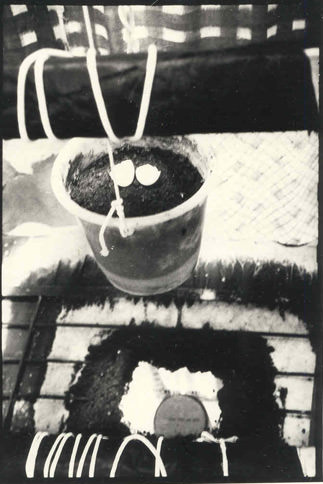 RUSSIAN ROSE
Object
1990
"N.Abalakova and A.Zhigalov. 1960-1990 (Glasgow-Moscow)". "Sadovniki" gallery. Moscow
Material: a bucket, earth (soot), two egg shells