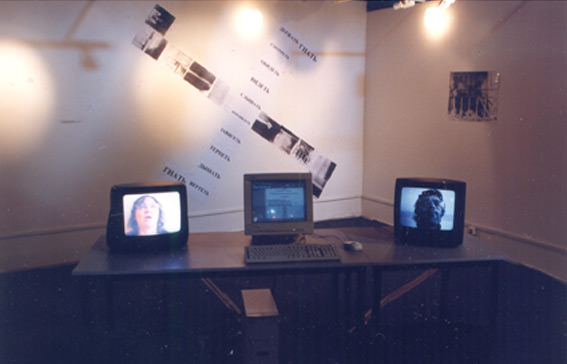 FOUR COLUMNS OF VIGILANCE
Videoinstallation
2000
'Dynamic pairs' project. 10 years of Guelman gallery. "Manege". Moscow
Leaflets with 11 irregular russian verbs 29 х 21 Xerox, 10 fragments of the interior of Lalay's izba (1981) 21х29 Xerox, exposed on the rear wall in irregular swastika, a fragment of the photo of the interior of Lalay's izba 50х60, 2 monitors, 2 video players, PC-computer.
N.A. on one screen and A.Z. on the other read with exchanged voices (N.A. speaks with the voice of A.Z.; A.Z. does with the voice of N.A.) the passages from Russian and Soviet writers cited in Russian Vocabular as examples on 11 irregular verbs.
2001
Museum of Nonconformist Art. St.-Petersburg.
Two video projections on the brick walls.