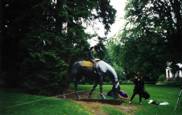 VILLA HÜGEL
For Margarita and Victor Tupitsyn
In the park of the Villa Hügel, we put M. Tupitsyn on the bronze statue of a horse and she was instructed to pronounce the names of any artists and to write them down on a sheet of paper which had been placed inside a cardboard box.
In the meantime we asked Victor Tupitsyn to unroll a ball of rope moving away from the bronze horse (to whose head the end of the rope was attached) in the direction of the Villa. Before the start of this part of the action, A.M. placed pacifiers with pictures of dinosaurs in his own and V. Tupitsyn's mouths.
After Victor Tupitsyn unrolled the ball of rope and rolled it up again, returning to the starting position, we took M. Tupitsyn off the horse and she was given the box with the action's factographic instruments.
Essen
6.17.1995
S. Hänsgen, A. Monastyrski
---