JOURNEYS TO THE COUNTRYSIDE. VOLUME EIGHT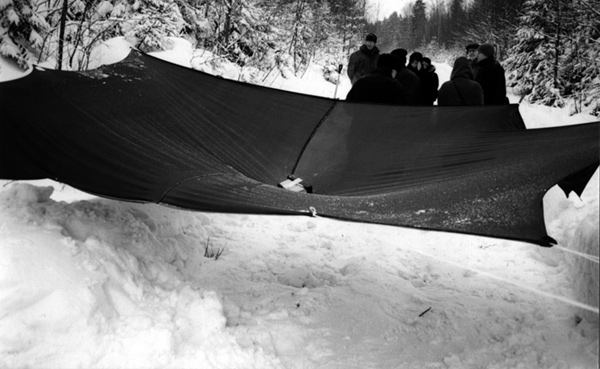 91. «625-520» (For S. Zagny)
In a forest, above a snow-covered single-track railway line, and using ropes attached to trees, a piece of fabric (3x3 meters) was stretched as an awning (at a height of approximately 1.6 – 1.7 m above the surface of the snow).
When this was done, it was suggested that S. Zagnij should lie down on the snow under the awning and read aloud a fragment from the book: "Metaphysical Principles of Virtue ", by Immanuel Kant (Minsk, 2000) (from the third part of the work "Universal Natural History and Theory of the Heavens" 1755). The peculiarity of this book was its extraordinary thickness (10cm) combined with the regularity of its other dimensions (13x20.5cm).
Before the reading took place, a tape-recorder was switched to "Recording" mode and was placed on the fabric (in the center of the awning). Whilst Zagnij read aloud, participants of the performance (using shovels) threw snow onto the fabric (and correspondingly onto the tape-recorder which was placed with its microphone facing downwards and covered with plastic film).
The fabric sagged under the weight of the snow and after 5-7 minutes it covered Zagnij and so it became impossible for him to continue reading.
Once Zagnij had climbed out from under the awning, the tape recorder was taken from the fabric. The cassette with the recording of Zagnij's reading was replaced with a tape recording that had been prepared in advance: 45 minutes from the soundtrack "Magic. The Gathering" (a computer game).
Then the tape-recorder was put switched to "Play" mode and attached to the Kant book with transparent Scotch tape. This object was then placed on the fabric awning, which had been cleared of snow.
The participants left the tape-recorder playing this recording and went away. It was decided to call the performance by the distance (measured in meters) from Rogachevskoe highway, along the single-track railway line up to the scene of action. This distance had been estimated previously (using the scale of a detailed map and counting steps) and was understood to equal 625 meters.
Two days later, the three organizers returned to the single-track railway line in order to conduct the exact "measurement of the name" of the performance, using a 26 meter rope as a measuring tool. The distance proved to be 520 meters. The object they had left had disappeared (most likely it had been swept away by a locomotive-snow plough, which was working at the time of the "measurement of the name"). This measuring action comprised the second part of the performance.
Moscow region, Krasnopolyanskoe forestry
4.3.2001 (625) - 6.3.2001 (520)
A. Monastyrski, N. Panitkov, S. Romashko, S. Haensgen, I. Makarevich, E. Elagina, M. Konstantinova, I. Sumnin, N. Sheptulin.