JOURNEYS TO THE COUNTRYSIDE. VOLUME SEVEN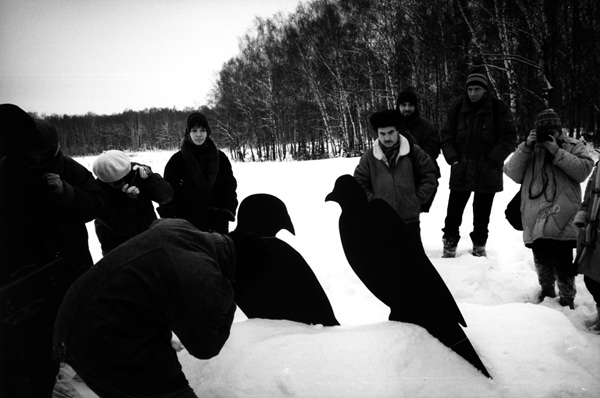 77. NEGATIVES
Two pre-fabricated pigeon figures (carved from plywood and dyed black; height – 1.2 meters; on one pigeon's head and the other one's tail there were golden lines) were vertically fixed in a snow drift on a snowy field's edge. The invited audience (10 persons) was prompted to take negative photographs of these figures using black-and-white negative film distributed by the action's organizers. At the same time a tape recorder held in a backpack by Panitkov was switched to playback. Its soundtrack consisted of descriptions of KD actions (see volume 6, action "The Opening").
Then I. Makarevich collected the viewers' and participants' cameras, joined S. Romashko who had already picked up the pigeon figures, and they both headed to a forest across the field.
S. Romashko hung the figures on a branch in the forest (away from the audience's line of sight). I. Makarevich photographed the hanging pigeons with the organizers' cameras. Then he used the viewers' cameras to take photographs of the snowy field with distant figures of the action's participants.
After the return of S. Romashko and I. Makarevich the viewers received their cameras (with an indication that the film contained within was from now on in their possession) and factographic sheets with text "NEGATIVES OF TWO BLACK PIGEONS WITH GOLDEN LINES", and also specified time and location of the action.
A. Monastyrski, S. Romashko, I. Makarevich, E. Elagina, N. Alekseev, N. Panitkov, S. Haensgen.
A. Alchuk, E. Bobrinskaya, V. Zakharov, M. Konstantinova, Yu. Leiderman, Pertsy, M. Ryklin, V. Sorokin, A. Filippov.