JOURNEYS TO THE COUNTRYSIDE. VOLUME SEVEN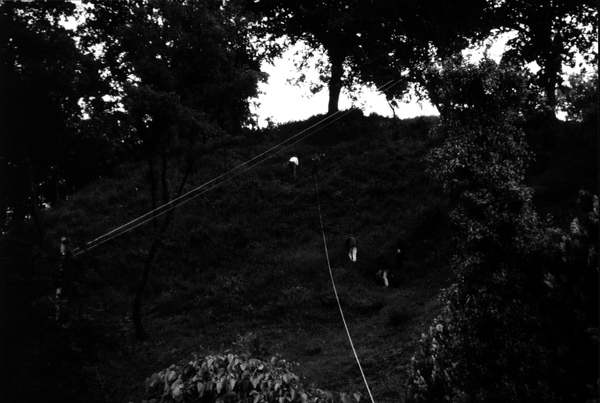 76. ARCHAEOLOGY OF LIGHT
In the daytime on a hill's slope a small hole was drilled with a hand-brace. Then a switched-on blue electrical lantern was put in that hole. The hole and the lantern were assembled in such a manner that light could be seen from an observation post located 80 meters away from the lantern. A white rope was used as a guiding line tied to a balustrade pole. Its other end was held by one of the action's organizer who pulled the rope to provide the necessary inclination angle for the hand-brace. After the setting-up the lantern the hand-brace was screwed next to the hole, with guiding line tied to its handle.
When on the next morning the lantern was excavated, its luminescence still lasted and only ended by the next night. By that time the lantern was already placed inside the pre-fabricated object. It was represented by a transparent plastic box with the lantern inside, labeled with factographic paper and tied with the guiding line to the hand-brace's handle. Besides that, the rope was spooled over two objects: the upper part of a cycle pump (found prior to the action on a hill's slope) and a small rock from Rygen island.
Poggio Catino, Italy
1st June, 1995.
A. Monastyrski, S. Haensgen, N. Panitkov