JOURNEYS TO THE COUNTRYSIDE. VOLUME SEVEN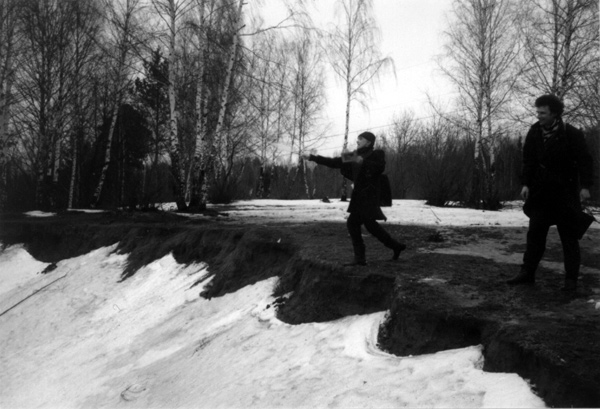 73. ON THE HILL
After climbing a high snowy hill steeply breaking to river Vorja with the rest of the action's company, N. Panitkov installed around a tree a cardboard cylinder pasted with pictures from a north-Korean comic series, using rubber straps. At the same time S. Haensgen arranged on the snow (in storyline order) cardboard cards with similar images (70 pieces approx.). Then Panitkov cut the cylinder horizontally in the middle so that its upper part was lifted by rubber straps while the lower part fell down. After that the rest of the action's participants began dropping from the steep the cardboard cards set on snow by S. Haensgen.
Then Panitkov was prompted to go down the steep, collect all the accessible cards and set them in snow on the river's bank in storyline order, and he followed the instructions. In the course of the whole action Panitkov was equipped with a backpack that held a tape recorder set to playback. Its soundtrack consisted of descriptions of other KD actions. Panitkov also used another device to record his descriptions of found cards.
There were also two elements unexpected by the action's authors themselves. Both S. Haensgen and A. Monastyrski were surprised by the fact that the cardboard cylinder had been pasted with comic pictures by Panitkov, while Panitkov was unaware of the tape recorder in his backpack and the necessity to arrange the pictures found under the steep on riverbank. These elements of the action were not concerned during the preliminary discussion.
Participating viewers: I. Bakshtein, D. Ross, B. Bogdanova, S. Blumberg.
17th March, 1990
Yaroslavskaya railway line, station Kalistovo
N. Panitkov, S. Haensgen, A. Monastyrski
Multimedia