JOURNEYS TO THE COUNTRYSIDE. VOLUME FOUR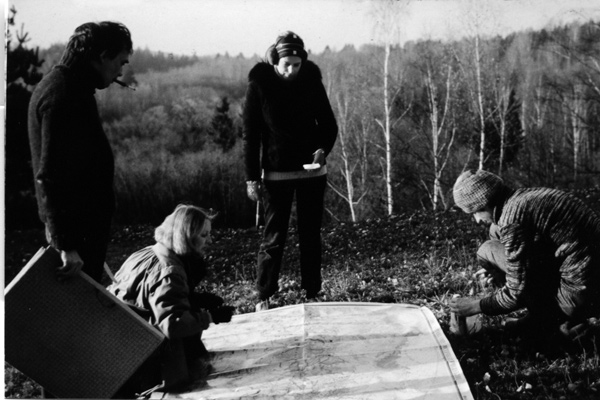 45. SLOGAN–86
While discussing the text of "Slogan–86" with N. Panitkov, we came to no solution. Then I suggested making a plain landscape photo where the "slogan" is moved away to "invisibility" (as demonstrational zone), i.e. the new slogan would become the next step after Kizewalter's Yakut slogan which was placed in "zone of non-distinction". And instead of text of this non-existent slogan I suggested accepting the text of preface to 4th volume of "Journeys to the Countryside", where the question was about an action as a space-temporal event devoid of significance.
After reaching the action scene (edge of ravine on river Vorya bank), we stretched on the ground a large physical map of the USSR and painted over the USSR territory in black lacquer. As soon as the lacquer dried, we started cutting out from the map black figures of an owl and a dog using pre-fabricated clichés (drawings by Ilya Kabakov). After decorating the contours of owl and dog with golden and silver stars and circles, we started making the "child's secret". Before digging a hole for the secret we took a photo of the landscape with the "secret" spot in its right lower corner.
After digging a rectangular-shaped hole with a scoop, we put on its bottom the dog contour and covered it with a layer of earth. Then the owl contour was put in the pit. Into the eye holes of the owl's contour two lit Chinese flash lights were inserted. Then the "secret" was covered with a transparent glass with a piece of red glass over it so that the latter was masking the flash lights. Then the whole "secret" was filled in with earth, except of two spots glowing in red.
After the making of the "secret" the second picture of the same landscape was made, although the "secret" location is not visible as it was behind the photographer's back.
Then we left the scene. Red lights in the owl's eyes kept shining for some time (without our presence, like the electric bell in the "Lieblich" performance) until the batteries died out.
Moscow region, Yaroslavskaya railway line, "Kalistovo" station
19th of October, 1986
A. Monastyrski, N. Panitkov, G. Kizewalter, M. Konstantinova, I. Nakhova