JOURNEYS TO THE COUNTRYSIDE. VOLUME NINE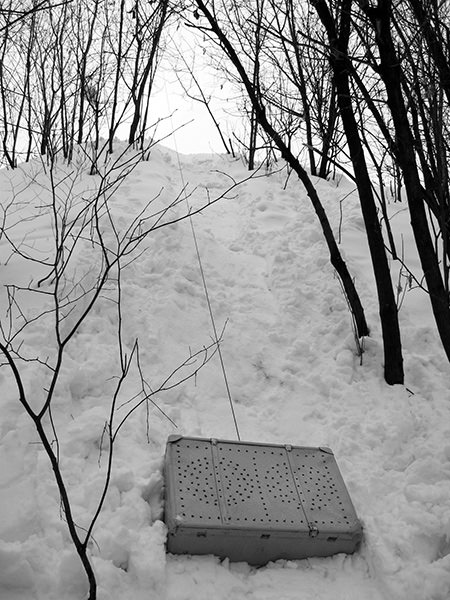 107.
THE SUITCASE
On a steep slope of a snow-covered hill, and within the presence of viewers, a yellow suitcase (65 х 85 см) was lowered down on a violet rope. Inside the suitcase was a tape-recorder switched on. The recording (45 minutes long) consisted of a recording of the noise of cars traveling along Prospect Mira and from time to time the sound of roll-call whistles were overlaid.
At the other end of the violet rope, (which was wrapped around a tree branch on top of the hill), was attached a piece of cardboard with prints (A3 size) glued to each side. One side consisted of handwritten extracts from a star catalogue by R. Aitken 1932 (17 180 stars), on the other was a fragment from a star atlas collated by A.M. in 1965, using this catalogue.
The viewers traveled down the hill, passing it alongside the river Yauza and moving through deep snow reached the spot in front of the suitcase which continued to produce sounds.
Here the faktography was handed to viewers this consisted of a piece of double sided cardboard (laminated) and containing pages from the star catalogue and the following (coloured) text taped to it: "CA. Alferatz's Suitcase. Moscow, Losinij Ostrov."
(It is important to note, that the concluding stage took place in a busy noisy zone of Rostokinskij Proezd, with all the cars passing by behind the viewers as they faced the suitcase which lay under the hill playing a recording of similar sounds of moving cars).
Moscow, Losinij Ostrov
March 13th 2006
A. Monastyrski, N. Panitkov, I. Makarevich, E. Elagina, S. Haensgen, S. Romashko, S. Zagnij
Viewers: N. Alexeev, I. Kulik, V. Mironenko, M. Ryklin, A. Alchuk, M. Sumnina, M.Leykin, S. Sitar, I. Burij, A.Ivanova, M. Perchihina, U.Ovchinnikova, A. Djeuza, V. Miturich-Khlebnikova, M. Konstantinova
PHONOGRAMME