JOURNEYS TO THE COUNTRYSIDE. VOLUME THIRTEEN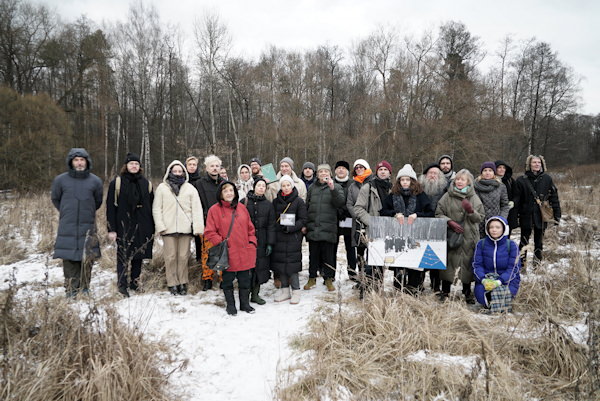 153. GOLDEN LINES IN IZMAILOVO
The invited viewers (21 people) gathered at the edge of the field. Two minutes later, two participants of the action (AM and EM) emerged from a grove on the opposite side of the field and approached the viewers. They carried a board with a photograph (85 x 56 cm) mounted on it. The image showed viewers at the 1976 action "Appearance", and had a blue triangle and a "no trespassing" sign from Kiovo Field glued on it. AM drew a few golden lines with a marker on this collage. Then it was raffled off using the I Ching on a smartphone (the viewers had selected and written numbers from 0 to 65 on the laminated cards that served as the action's factography; the I Ching app showed hexagram no. 21, "gritted teeth," and the mounted photograph was given to A. Atik, who had written the closest number [22] on his laminated card). After that, the viewers lined up and AM picked one of them the receive another prize: a green box with a golden triangle on the lid, which held G. Martynov's 1979 book 111, with drawings by L. Rubinstein that also incorporated golden lines and collaged elements (the book went to S. Mironenko). Before leaving the field, the participants left a stereo playing a recording of AM reading fragments from 111 in the dry grass for an anonymous viewer.  
Moscow, Izmailovo Park (the field where the actions "Appearance" and "Lieblich" took place in 1976)
January 6, 2020
A. Monastyrski, E. Elagina, D. Novgorodova, M. Sumnina, M. Leikin
Viewers: V. Sorokin, S. Letov, S. Mironenko, M. Chuikova, Y. Ovchinnikova, S. Sitar, O. Sarkisian, A. Malyshkin, A. Kuzkin, A. Atik, V. Osipov, Dim Khvorost, A. Senozatskaia, D. Kuznetsova, Y. Liederman, I. Prokhorov, K. Korchagin, E. Kuzina, T. Khengstler, A. Sorokina, M. Sorokina.
Translated by Brian Droitcour
PHOTOS