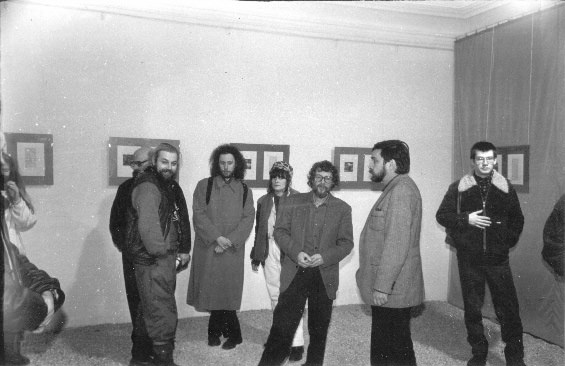 TWENTY ONE FINGERS IN THE ARTISTS' LIFE
Action/Text
1994 – "21" gallery, Pushkinskaia, 10. St-Petersburg.
1999 – Spider&Mouse gallery. Moscow. Publishing of the book "TWENTY ONE FINGERS IN THE ARTISTS' LIFE"
    This project consists of 21 drawings and 23 accompanying texts. Each drawing represents an outlined limb of the artist's body, subsequently commented by a woman. Each limb drawing is accompanied with a descriptive text that stylistically is remindful either of Chinese medieval literature, or of revolutionary events in China in the 1920s. The texts are framed with prepared excerpts from Russian critical essays of the early XX century.
    The task of drawing outlines suggests that the paper surface be perceived as a sort of natural or archaeological space where the artist can leave his trace. Outlining, or tracing becomes therefore a kind of primordial act, a borderline between pure Nature and Art. Outlining is the first creative act where self-identification and the image coincide. It is yet no art and it is already art. It is the borderline as such, a borderland between the absence of language and its origin. From there stems ambivalence of the gesture. It is a union of self-sacrifice and violence. One can lose a part of oneself and prove one's will to power. A body limb becomes an element or a sign that can help build the whole universe. It is a world construction, a primeval mythological description of the becoming. The fragility of the material corresponds to narcissistic self-affirmation, bordering on self-destruction, while only the system-generating consistency of actions allows one to see in the meaningless disappearance of characters the pledge of prototypical symbols of culture - this mortal offspring of Logos, - that escapes the decay of oblivion and death. The transitory nature of images is intensified and estranged by the fact that the artist's limbs are outlined using carbon paper as a mediator, thus making them the traces of traces. The associated texts, being self-dependent "literary" oeuvres, immerse the visual objects in a mythological substance, precipitated with chemical (or alchemical) elements of "structural" analyses, which engenders an ambiguous situation of self-aggression and mutilation along with a cold-blooded commenting process.