JOURNEYS TO THE COUNTRYSIDE. VOLUME THIRTEEN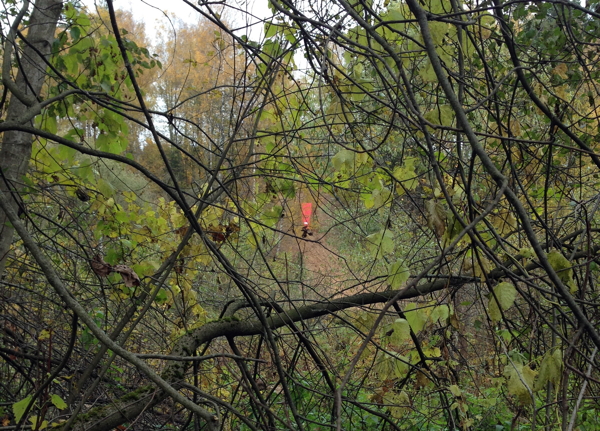 152. Two Banners, part 1
For Vladimir Sorokin
The action's participants carried a banner's large red cloth (10 m x 1 m) between villages Antipino and Radonezh, in the floodplain of the Vorya river, through the LEP valley up the slope, and then brought it down the slope Peschanki (high bank of the Vorya river where CA held their actions No. 7, No. 45, and No. 73). They laid the cloth on the sand along the river and attached to it a square piece of white cloth 40 cm x 40 cm. After that, the participants went around a small bay formed by the river, and while standing on the other side of the bay, took a picture of the red stripe of the blank banner lying on the Peschanka slope.
October 2, 2019
Yaroslavskaya railway, Kalistovo station, bank of the Vorya river near Antipino village.
A. Monastyrski, M. Sumnina, M. Leikin, D. Novgorodova, Yu. Ovchinnikova, I. Nakhova, I. Korina, A. Kuzkin, A. Senozatskaya, A. Malyshkin, S. Sitar, O. Sarkisyan, A. Atik, V. Osipov.
Translated by Olga Zaikina-Kondur
Photos by D. Novgorodova and S. Sitar
Video by I. Korina